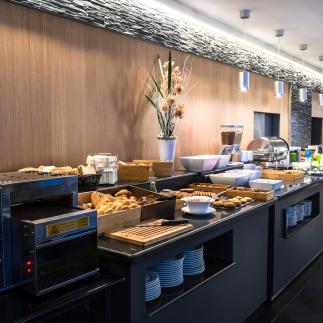 At Hotel Les Closes we know that breakfast is the most important meal of the day, which is why we have designed a breakfast buffet service that is included in your stay. In it you will find a varied proposal of products that will allow you to gain energy to face a new day with strength and vitality.
In our breakfast buffet you can enjoy a wide selection of freshly baked breads and pastries, sausages and cheeses from the region, fresh fruits and juices, cereals and muesli, yogurts and different types of milk, coffees, teas and infusions. In addition, we offer lactosa-free and gluten-free options so that all our guests can enjoy a tailor-made breakfast.
Our breakfast buffet is served in a spacious and bright space that will allow you to start the day in the best possible way, with a spectacular view of the mountains that surround Andorra.
In short, at the Hotel Les Closes we want your stay to be as comfortable and satisfying as possible, which is why we offer you a complete breakfast buffet so that you can start the day with energy and vitality.